Clip-on pearl earrings are a valuable item we stock in a variety of styles. At Aquarian Pearls we stock 18 carat yellow gold clip-on pearl earrings set with round clean golden 9 millimetre cultured south sea pearls. We also have pearl earrings set with white south sea cultured pearls that are 9 millimetres.
We can take orders for Tahitian cultured pearls set as clip-on pearl earrings in white gold or yellow gold as well.
The clips on your earrings are a copy of a German design. They are a balance of comfort and security with a strong hinged clip and a silicone pad at the back to cushion the clip on your ear. They are created and manufactured this way so that your clip-on pearl earrings can be worn all day without discomfort.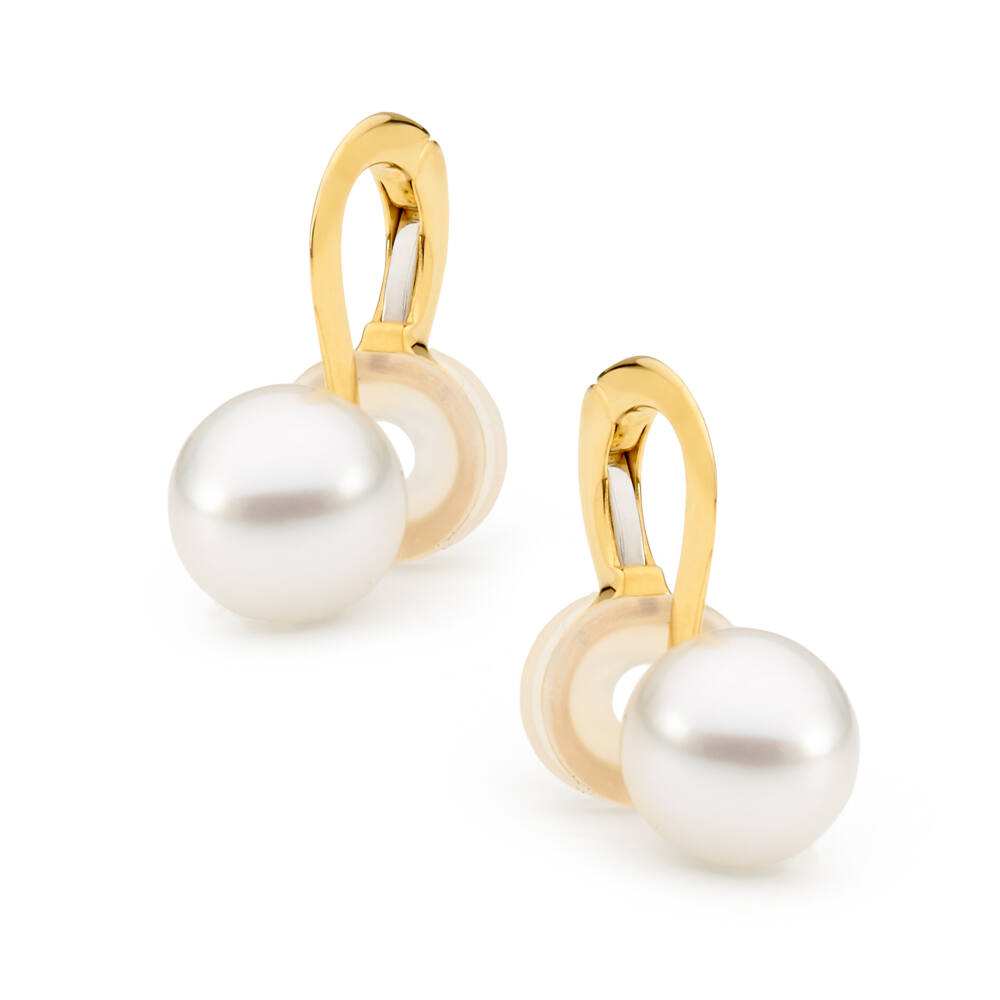 About Our Clip-on Pearl Earrings
As always, matching the pearls on your clip-on pearl earrings is as accurate as possible and we sometimes go through several hundreds of pearls to match one pair of round shaped 9 or 10 millimetres sized south sea pearls or Tahitian pearls or Broome Pearls or Australian pearls.
The matching in our pearl earrings is done for size, shape, colour, lustre and cleanliness of skin.
The higher the grade of complexion or skin the better the quality and so we have chosen to only select the cleanest skin pearls to set in our pearl earrings.
The brighter the lustre, then the more nacreous coating of pearl and the better the stunning lustrous effect of the pearls we select for these pairs of clip-on earrings.
The more accurate the colour match then the greater the value and the closer to Nature's perfection we can achieve in setting beautifully colour matched pearls in our clip-on pearl earrings.
So as you can read, all five virtues of pearls are honoured in the manufacture of our clip on pearl earrings. They are of very high quality, set in 18 carat gold, comfortable on the ear lobe, and are set with the highest quality pearls that would not be out of place in the highest jewellery branded stores across the world.
Clip-on earrings first became available at the end of The Victorian era when piercing of the ears was considered scandalous but fashion necessitated a solution for those who wanted to wear earrings. There are pictures of the famed Flapper girls pf the 1920's adorned with clip on pearl earrings shown off by shorter haircuts that were in vogue in that era. By the 1950's and 1960's clip on pearl earrings and all styles of clip-on earrings were very popular indeed but the fashion changed and over the years piercing of the ears became much more the fashion and to some extent clip on pearl earrings became unavailable.
We had requests for these earrings through our exposure to TV shopping on Gem Shopping Network in The United States and on TVSN in Australia. This prompted us at Aquarian Pearls to make these available through our business.
The great thing about clip-on pearl earrings is that they can be worn by children playing dress ups, if Mother is feeling brave and generous! By men and women who adore pearls but do not have pierced ears, and by clients who just want a holiday from pierced ear earrings.